Throw away your spreadsheets, pencils, and paper. In less than 5 minutes, you can start improving your equipment efficiency using the new RS Production OEE software. Get the insights needed to cut production costs, get real-time control, and use less resources per unit produced. That's both more economical and sustainable.

Our 20-year expert experience makes sure your production teams get the best digital tool available to improve production efficiency. The new RS Production OEE software provides several ready-to-use reports, an easy-to-use interface, and guides you through setup and configuration. The best part is you pay-as-you-go. And the first 60-days are free.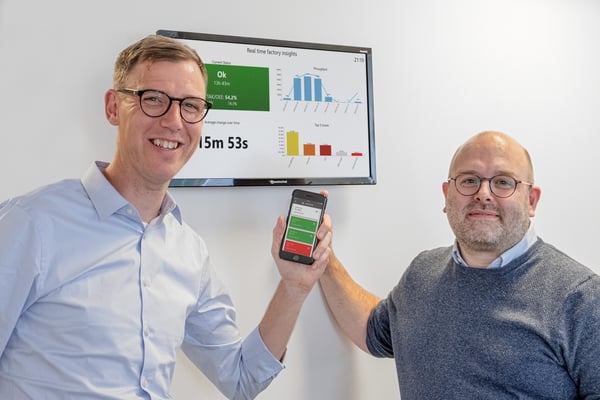 Cut costs quickly in times of change
"Our focus is to make it as easy as possible for factories to find waste by collecting and analyzing production facts and provide cost-cutting insights. The innovation of this new product is the fast setup and ease-of-use combined with a new pay-as-you-go business model" says Mikael Persson, co-founder and CEO.

Many factories face market volatility, uncertainty, and demand changes. RS Production OEE turns facts from operators and machines into insights enabling more people to make better decisions faster. The ready-to-use reports show where the most significant cost reductions can be made – in real-time.
Get your factory digital in 5 minutes
"You don't need to make heavy investments or provide lots of training to go digital with RS Production OEE. We have worked closely together with all of our experts and many customers to streamline setup. Install, configure, and start finding cost-savings in less than five minutes." says Mattias Ahlenius, co-founder and CTO.

The new RS Production OEE software makes it faster and cheaper than ever before for any factory to go digital and lower production costs by:

Get real-time insights with ready-to-use reports for daily meetings, improvement work, production management, and much more.
Easily collect production facts from operators and machines.
Go digital quickly with guided setup and configuration.
Expand to more functionality and scale to more machines and factories when you need.

"Too good to be true? Learn more and get started with RS Production OEE directly from goodsolutions.se. The first 60 days are free. You got nothing to lose." Mikael concludes.


Good Solutions have helped more than 150 factories globally become more profitable and sustainable. Our digital factory software turns billions of machine signals and data from thousands of daily users into bottom-line improvements.