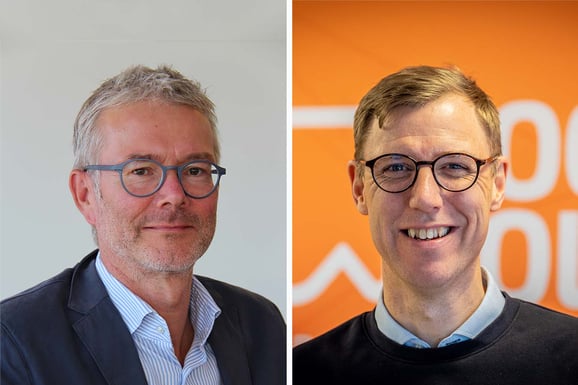 In the photo from right: Michael Ries, Director Nordic Channel Partners at Ultimo; Mikael Persson, Co-Founder, and CEO at Good Solutions.
Ultimo and Good Solutions enter a technology partnership to help customers improve production efficiency in factories. Based in Sweden, Good Solutions develops and operates software designed to increase factory profitability and sustainability. Ultimo is a leading Enterprise Asset Management (EAM) solution supplier in Europe, with a strong focus on manufacturing. The partnership combines EAM and Overall Equipment Effectiveness (OEE) software products, enabling asset-intensive companies to optimize machine output and reduce production costs.
RS Production OEE software from Good Solutions identifies production losses and acts as the operators' eyes and ears. As soon as a loss, such as a deviation or a machine failure, is detected, the appropriate action is automatically created in Ultimo's Asset Management platform, enabling the issue to be resolved quickly and efficiently.
Mikael Persson, Good Solutions CEO, explains: "Together, we collect production data, but with a human touch. Automatically triggering actions in Ultimo EAM based on real-time production events makes it easier to predict and avoid unplanned downtime, ensuring that corrective action can be taken immediately. Communication between production and maintenance gets clearer, reducing production costs, improving machine time control, and increasing machine throughput."
Michael Ries, Director Nordic Channel Partners at Ultimo, adds: "By connecting Ultimo EAM and Good Solutions RS Production OEE, we create a bridge between operations and maintenance. As a result, factories can minimize lead times and enhance machine and asset productivity. Our EAM platform adds value for all asset-intensive companies by reducing maintenance and production costs and improving asset uptime. The partnership with Good Solutions also marks an important step in our strategy to expand our Nordic footprint. We look forward to exploring the market together and helping factories meet their business goals and become more competitive."
If you're already using Ultimo, go to the Ultimo Market space to find out just how easy you can to integrate with RS Production OEE at https://marketplace.ultimo.com/solution/good-solutions/
About Ultimo
Ultimo Software Solutions supplies the #1 Enterprise Asset Management (EAM) Cloud platform 'Ultimo.' The software is used by more than 2,000 customers globally in Manufacturing, Healthcare, Logistics, Infrastructure, and Utilities.
It offers customers in these sectors many advantages such as increased uptime, the management of costs, increased equipment lifespan, ease of adherence to laws and regulations, and the ensurance of a safe working environment.
Ultimo provides all this with an unparalleled Return On Investment due to fast implementation processes, seamless integrations, and Self-Service application management. The company was formed in 1988 and has offices in the Netherlands, Belgium, Germany, and the United Kingdom. Read more at www.ultimo.com